Welding Equipment Suppliers in UAE
Profile
An overview of welding and it types
Welding
is the process of joining or fusing components together using heat and/or compression so that they form a single unit. Typically, the heat source in welding is an arc flame generated by the electricity of the welding power source. Welding with an arc is known as arc welding.
The components might fuse purely because of the heat generated by the arc, which causes the welding pieces to melt together. This technology is applicable to TIG welding, for instance.
Typically, however, a filler metal is melted into the welding seam or weld using either a wire feeder via the welding gun (MIG/MAG welding) or a manually fed welding electrode. In this circumstance, the filler metal must have a similar melting point to the material being welded.
Before commencing the welding process, the edges of the weld components are given an appropriate welding groove, such as a V groove. As the welding process continues, the arc fuses the edges of the groove and the filler to form a pool of molten welding.
For the weld to be lasting, the molten weld pool must be shielded from oxygenation and the impacts of the surrounding air, using shielding gases or slag, for instance. The shielding gas is introduced into the molten pool of welding using the welding torch. Additionally, the welding electrode is covered with a substance that generates shielding gas and slag above the molten weld pool.
Metals
, such as aluminum, mild steel, and
stainless steel
, are the most typically welded materials. Plastics may also be welded. The heat source for plastic welding is either hot air or an electric resistor.
Types of welding methods
Before selecting welding equipment in UAE, you must choose the welding method you will use. Each welding procedure calls for a certain kind of welder.
Stick Welding/SMAW
Welding using a stick requires an electric current to travel between the metal and the welding stick (arc welding electrode).
works with most metals and joints
uses rusted and unclean metals in drafty regions and may be utilized both inside and outdoors.
suitable for heavier metals
economical
MIG Welding/GMAW
This method employs a constant-speed-feeding spool of electrode wire for welding. An electrical current between the base metal and the wire produces the arc.
Simplest to learn
Rapid welding speed
Effective with both thin and thick metals.
Cleaner, slag-free welds.
The same equipment may be used for flux-cored arc welding.
Flux-Containing Arc Welding
This method likewise uses a continuously supplied wire electrode but does not need a shielding gas. Instead, the flux-cored wire protects the arc.
Operates well in outdoor and windy environments.
Effective on dirty and corroded metals.
Beneficial for out-of-position welding.
Welding thick sections requires deep penetration.
A rapid rate of metal deposition.
TIG Welding/GTAW
This welding technique employs a tungsten electrode that is non-consumable. A steady current supplies the arc with energy. The weld region is protected by a shielding gas.
Effective on thin sections of alloy steel, stainless steel, and non-ferrous metals like aluminum, magnesium, and copper alloys.
high-quality, accurate welds
Weld beads that are attractive.
Enables heat input adjustment by foot control during welding.
Welding machine factors to consider
In addition to understanding the welding method to use, it is necessary to consider the following factors while selecting the appropriate welding machine:
Quality: If you want visually appealing welds of excellent quality, you should use a TIG welder. Consider stick or flux-cored welding equipment if you need to establish a robust weld between rusty or soiled metals.


Welding conditions: Windy outside circumstances necessitate the use of a stick or flux-cored welder. This may happen on building sites and shipyards.


Metal thickness: Thick metals may be welded using stick machines, whereas thinner metals need MIG or TIG welders. The automobile manufacturing business requires extensive welding of thin metals.


Metal types TIG welders are effective with all metals and alloys except for cast iron. MIG welding is good for aluminum, steel, and stainless-steel alloys. The ideal materials for stick welding are steel, stainless steel, and cast iron.


Simple or intricate machine a modest equipment such as a tiny MIG welder will suffice if you have just begun welding instruction and the welding work is straightforward. If you're an expert welder and the work demands greater power, you may want to invest in a high-tech TIG welder.
AC/DC source of electricity typically, steel and stainless steel are welded using a DC output. AC output is optimal for aluminum and magnesium welding. Choose a combined AC/DC welder if you want to weld a range of materials.


Portable welding. If the power source is relocated, you will require a portable welder that is either inverter- or engine-powered.


Source of welding power duty cycle. The duty cycle is the length of time you can weld without worrying about the power supply overheating or catching fire. A hobby welder may only need a 20% duty cycle, whereas a professional may employ a 100% duty cycle TIG welding equipment. In most situations, duty cycles between 40% and 60% are enough.


Welding is a dangerously hot job. Although all tools are necessary, we consider that the most important ones are the safety equipment that every welder must have. We have ranked the safety equipment we feel to be most essential, as well as other necessary tools, according to their importance.


Various Welding Equipment and Their Function
1. Welders:
The most popular kind of welder used in the home and for everyday applications is the stick welder. This welder is also often referred to as the Shielded Metal Arc Welder.
Why do people use stick welders?
For the stick welder, no conditions are required for usage. It may be used in a typical setting without any problems. Moreover, it is accessible at any nearby market.
The only concern is that the electrode in the stick welder must be properly maintained. You should always replace it if it becomes damaged.
Additionally, a gas supply is required for this sort of welder.
2. Electrode:
The electrode is the central component in welding. It is the tip of the tool via which the welder's current travels to the material to be welded. In the case of TIG welders, the electrode tip is composed of non-consumable tungsten. In contrast to other welding procedures, the TIG welding electrode need not be replaced.
3. Welding pliers:
Many of us have heard of pliers, but are you familiar with welding pliers in particular? Welding pliers are used in a variety of welding operations and are composed of forged steel.
They are spring-loaded and simple to both open and shut.
They have also undergone heat treatment techniques to increase their durability.
MIG welding is the primary use for welding pliers. They may be used for splatter removal, wire cutting, and nozzle cleaning.
4. Welding Machine:
For welding, you may use both alternating current and direct current machinery. The AC welding equipment in UAE is equipped with a step-down transformer. This step-down transformer decreases 220 or 440 V input voltage to 80 or 100 V.
The DC welding machine is equipped with an AC motor-generator combination. Occasionally, it may be equipped with the transformer-rectifier welding set, or the diesel-petrol engine generator set.
In the frequency range of 50 to 60 Hertz, alternating current welding machine's function. The efficiency of an AC-type welding transformer is regarded to be between 80% and 85%.
D.C. machines have a power factor between 0.6 and 0.7, whereas A.C. machines have a power factor between 0.3 and 0.4.
5. Electrode Holders:
The electrode holders are used to maintain the proper electrode angle. The diameters of the electrode holders vary according to their amperage ratings. The ampere ratings range between 50 and 500.
The sizes of the electrode holders are also dependent on the diameters of the electrodes. The machine with a 300-Ampere rating requires a larger electrode than the one with a 100-Ampere rating.
Insulated and non-insulated electrode holders are the two most common kinds we employ.
It is not suggested to use non-insulated holders since unintentional short-circuiting may occur in certain instances.
6. Cables:
The purpose of cables is to transport the required current. The cables are constructed of copper or aluminum and are flexible. 900 to 2000 wires are often twisted together to produce cables. This provides more flexibility and increased strength. The insulation of cables is composed mostly of rubber.
While welding, we must consider the following safety equipment:
1. Welding Helmets:
The finest welding helmets are essential to shield the face and neck from radiation. Without the helmet, the arc's intense radiation may swiftly cause harm to the skin and eyes.
In general, welding helmets that automatically open are preferable.Safety glasses or goggles may shield your eyes from the radiation produced by welding.
2. Gloves:
There are several kinds of gloves that may be used during welding. Gloves shield your hands from both the sparks and the heat.
MIG Welding Gloves:
Typically, they are used for heavy-duty tasks. These gloves provide protection against splashes. Always choose gloves with numerous layers of insulation when purchasing gloves. Some of the heavy-duty MIG welding gloves include silicone patches for additional protection against heat and splatter.
The TIG Welding Gloves are:
TIG welding gloves are often comprised of suppler, heat-resistant leather. These gloves are both sturdy and flexible.
3. Jackets: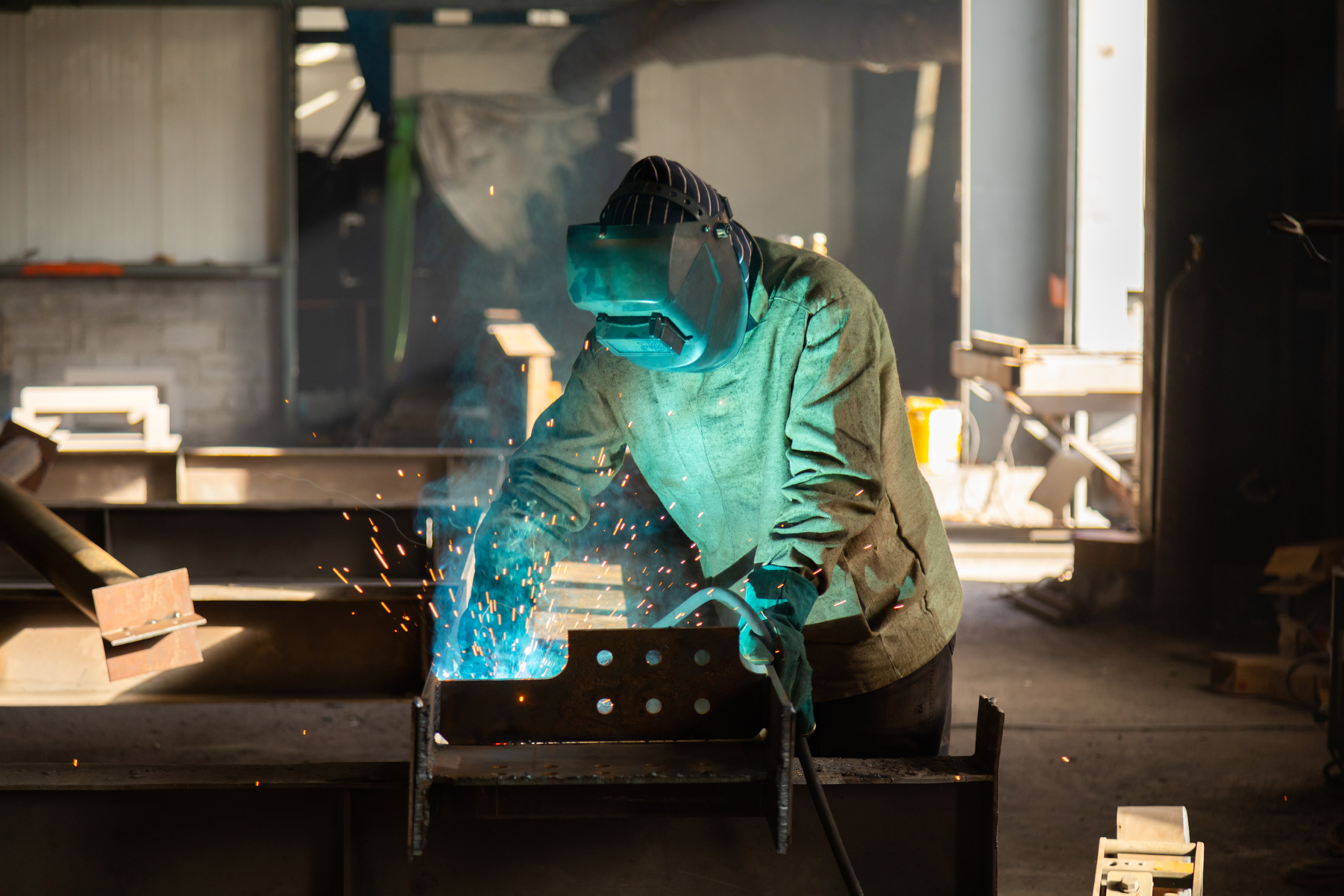 Welding requires us to wear jackets constructed from flame-resistant textiles. There are several jackets available, but only high-quality jackets will survive for years without needing to be replaced for a considerable amount of time. Occasionally, respirators are also used during the welding process. The usage of respirators protects the lungs against welding-related health issues.
So, the above items are all welding equipment that is often used in the welding procedure.
Welding equipment suppliers in UAE
You may simply get world-class cutting tools and welding equipment from a reputable Welding equipment and supplies Abu Dhabi supplier whether you are in the UAE or Abu Dhabi. The well-known welding equipment suppliers in UAE supplies tools of the highest quality from the industry's top manufacturers and dealers, therefore catering to the diverse demands of people and businesses in UAE, Sharjah, Abu Dhabi, and other regions of UAE.
Leading Welding equipment suppliers in UAE can accommodate your specific demands and specifications. The dealers will help you get any kind of welding equipment for precision automated welding and multi-pass applications based on your demands and specifications. This will satisfy your urgent demands and requirements and allow you to finish the fabrication orders of your customers quickly and efficiently. If you are unable to locate the optimal product for your welding application or fabrication project, you may contact the knowledgeable staff of the welding equipment supplier.