Used Construction Equipment - Best Traders & Dealers In UAE
Profile
Used Construction Equipment in High Demand in the UAE
For a construction site to work well, it needs a lot of resources, including labor and
materials
. Used construction machinery and equipment transfer supplies inside and around construction sites, perform some activities that people cannot accomplish effectively or efficiently.
There are several roles and sizes of used construction equipment, ranging from little ditch-digging machines to enormous weight carrying vehicles.
To satisfy the demands of the building industry, some of the largest machines ever to work on land have been created. However, this was not always the case. During the construction of the Egyptian Pyramids and the Great Wall of China, only manual labor was available. Workers carried out their duties to the extent of their physical capabilities. Today, the power of machines boosts production to levels that workers could only have dreamed of in the past.
Used construction equipment
Heavy machinery and equipment are in high demand across all industries in the United Arab Emirates, from
oil and gas
to manufacturing to infrastructure to construction to mining. Original equipment manufacturers (OEMs) abound, ready to meet the diverse and continuous demands of today's industries. The market for used construction machinery is also growing.
Benefits of purchasing used construction equipment.
The fact that it is less expensive stands out as the most significant benefit for anybody who is interested in purchasing used
construction equipment
. As soon as it is taken out of the showroom, a brand-new piece of machinery will begin to lose value. The first year of operation has the greatest decline in value relative to subsequent years.
This actual loss can be avoided by purchasing a secondhand equipment. Let's say one purchases a model that's only been used sometimes in its first couple of years. If this is the case, it would be wise to purchase secondhand machinery since it will be more productive and will result in a higher return on investment (ROI).
Another benefit is that financing firms will provide money for used construction equipment for up to eighty to eighty-five percent of the asset's value. That person will have a smaller monthly financial payback obligation as a result.
Adaptive strategy
Those who are interested in purchasing a JCB backhoe loader or a forklift have the option of either buying a brand-new model or an already-owned one. A decision needs to be made based on a number of factors, such as the current financial situation, the nature of the project, the location where the equipment will be used, the terms and conditions of the project contract, payments from the client, the length of time the project will last, and the cash flow that will result from the operation of the equipment, etc.
Before making a decision, the owner of this piece of equipment need to first do a cost-benefit analysis. It is a waste of money to purchase brand new machinery if it will only be utilized for a few years on one project before being stored away unused in the yard. For instance, the typical lifetime of a forklift is at about 10,000 hours. If it is used for at least eight hours every day, it will still only last about 6-7 years. Therefore, it is necessary to realize a profit on top of the cost of the investment within the allotted time period. In the absence of a long-term agreement with the primary firm, the asset in question will generate negative returns throughout the course of its useful life.
Equipment Names and Descriptions
What is used construction machinery? Legally, used construction machinery comprises all appliances and tools used in the building process. Backhoes, dump trucks, and graders are examples of machinery used on construction sites that are often referred to as "equipment" by construction experts. These machines perform a variety of tasks, from ripping and shredding the earth to transporting commodities to other areas.
The two primary types of modern construction equipment are earthmoving and material handling. Both kinds of equipment are used across the whole business, particularly in heavy construction. Below, we examine the equipment that falls under each category in further detail.
However, before we categorize construction equipment used in the UAE, let's first describe the most common machines seen on building sites.
Equipment Types
Knowing the most common types of equipment used in the construction industry can help everyone better understand what goes on. Workers are better able to recognize possible risks and take the necessary actions to protect themselves when they are aware of the activities occurring on a working site.
Here is a list of some of the most popular kinds of used construction machinery used on construction sites:
Backhoes
- This kind of hydraulic excavator is equipped with a hinged boom and a bucket that it pulls toward itself to transport various natural and artificial objects. At the end of the bucket, there are jaws that can move to grab and hold things.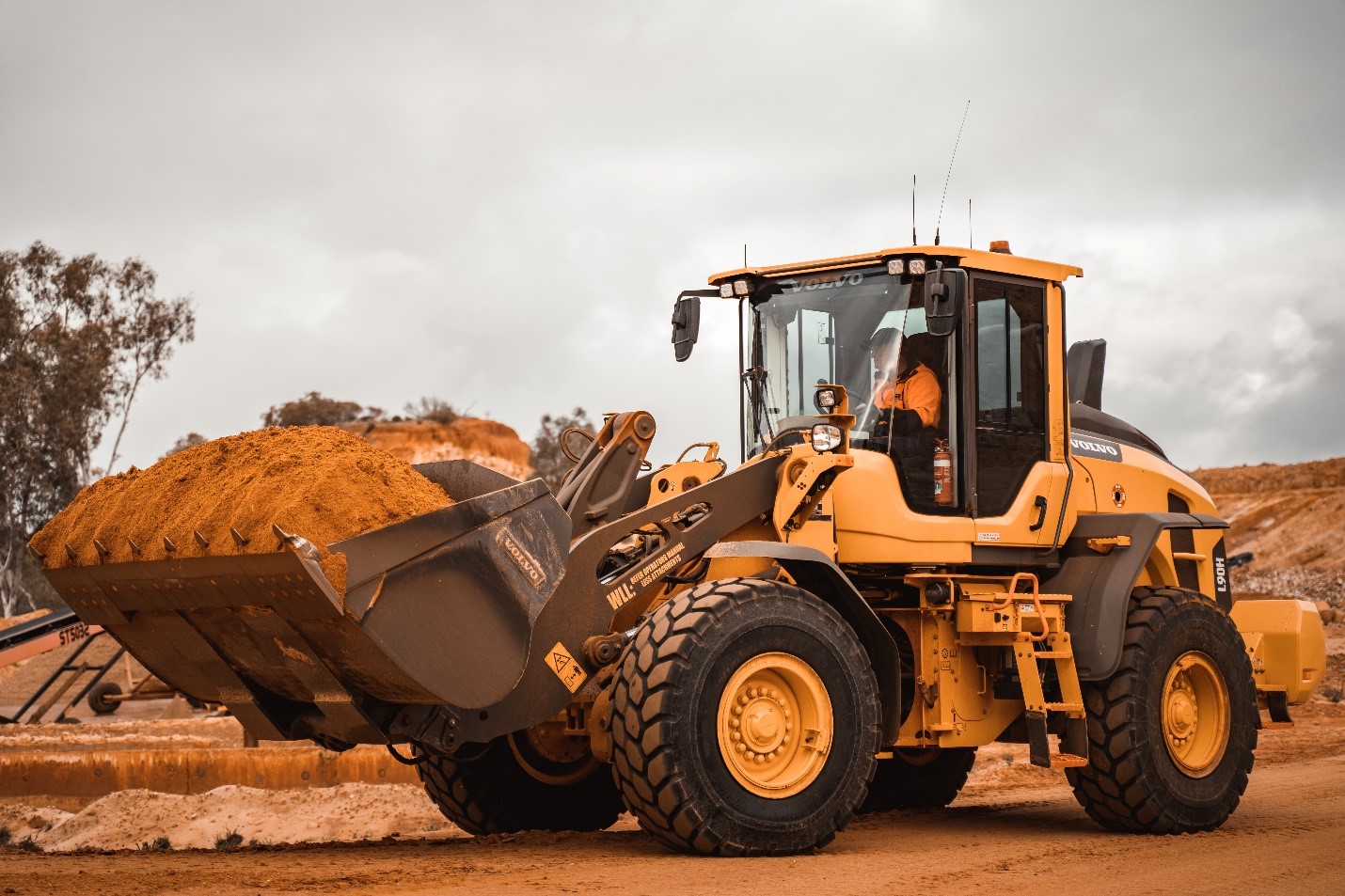 Bulldozers
- These workhorses are equipped with a broad horizontal metal blade on the front that moves and pushes trash, dirt, soil, snow, ice, rubble, sand, and other materials. Instead of wheels,
bulldozers
are set up on moving tracks.
Cherry Pickers
- Equipped with a hydraulic crane and an elevated platform at the end of the boom, these devices assist in lifting and lowering people to precise heights.
Compactors
- The heavy drum of a compactor helps to pack things down so that they are fully compressed. When laying asphalt roads, road rollers are often used.
Cranes
-
Cranes
are important for moving heavy things into place. They have cables and pulleys that are used to lift and lower materials. A tower crane has a big vertical mast from which a big horizontal crane arm extends. This machine makes it possible to lift steel to the higher levels of multi-story buildings.
Dump Trucks
- These trucks transport large amounts of bulky materials to the building site. These trucks carry heavy things like coal, dirt, gravel, sand, and trash.
Draglines
- Used in both civil engineering and surface mining, this excavating equipment has a bucket dragged horizontally by a cable throughout the excavation operation.
Excavators
- these are machines that run on diesel and have a bucket on the end of a two-part boom. For digging trenches, holes, and building foundations, excavators are a must.
Graders
- these are important machines for building roads and mines. They have a long blade that is used to smooth out and flatten surfaces.
Heavy Haulers
- These massive vehicles transport big equipment and cargo to the construction site.
Loaders
- The job of these machines is to move large or heavy building materials like bricks and pipes. These machines don't dig as the backhoe loader does. They have a big bucket on the front so that they can lift and move things.
Mixer Trucks
- These trucks are used to make concrete on building sites. Cement, sand, and water are mixed and stirred together.
Pavers
- Before the compactor can press down on materials during road construction, the paver must spread the paving material, such as asphalt, on the road. Pavers spread the material out evenly, but a compactor or roller still needs to be used on the road afterward to make sure it is fully compacted.
Pile boring machines
- these are big machines that drill a round, vertical hole in the ground. This lets workers put steel supports for buildings in the hole.
Pile-Driving Machines
- After the boring machines have done their job, pile drivers make sure that piles are driven into the ground at the right depth. This machine is needed to build support for the ground.
Scrubbers
- A wheel tractor scraper, also called a belly scraper, is often used to move small amounts of dirt over short distances. It has a front blade that digs into the ground, and a conveyer belt moves the moved dirt into the scraper's back bed. These machines are one of the most important tools for building roads.
Telehandlers
- The telescopic boom on a telehandler can be raised or lowered to lift heavy, bulky items to the right height.
Trenchers
- these are tools that look like big circular saws or chainsaws and are used to dig trenches. There are two kinds of trenchers: ones with wheels and ones with chains. Both are used to dig channels for laying cable or pipe or to make ditches for water to flow through.
Wrecking ball cranes
- these are used to tear down buildings that are too old or don't have good foundations. When a big steel ball swings into a building, it can bring it down quickly.
Safety
When operating, maintaining, repairing, or working in the vicinity of heavy machinery, the risk of death is very great. Getting caught in or between machinery is the fourth most common cause of accidents on construction sites. About 7% of all construction worker deaths are caused by this kind of accident. When a machine is running, everyone who is working nearby should be alert and aware that there are risks.
PPE is one of the most important ways to keep workers safe. On a construction site, workers must always wear hi-vis safety vests, hi-vis jackets, hi-vis rainwear, and hi-vis shirts. People who run big machines and equipment must be able to tell apart other workers on the job site who are doing other things. Also, machines have moving parts that can quickly send out flying objects at any time. This is why workers need to wear safety glasses.
Safety vests with high visibility should be worn by everyone on a construction site, especially those who are working near heavily used construction machinery.
Let's not forget about the people who keep the machines and tools used in construction running. At some point, every piece of machinery needs to be fixed. Maintenance workers replace broken mechanical parts and take equipment apart and put it back together again. Any time they do these things, they could hurt their hands.
Chemicals
, cuts and punctures, and heat can all cause these kinds of injuries. Most likely, people who rebuild mechanical parts will need welding gear to keep them safe from sparks and hot metal.
Reliable Supplier of Used Heavy Equipment
In Dubai, Sharjah, and across the rest of the United Arab Emirates, there are a great number of reliable machinery suppliers that sell secondhand heavy equipment and machinery. Check out the vast selection of heavy equipment we have available by looking through their inventory. You can easily fulfill the needs of your project by acquiring used construction equipment with the assistance of a knowledgeable team who will guide you through the process and make it simple.
They are one of the major heavy equipment dealers in the UAE for construction, infrastructure, material handling, and
agricultural equipment
. They consistently supply a wide range of heavy equipment from all top brands and manufacturers. Purchasing used equipment from them will result in less downtime and greater productivity on work sites, both of which will contribute to enhanced operational and financial efficacy. These providers are the greatest alternative to acquiring unused and used heavy equipment which is properly examined, well-maintained, and ready for use.