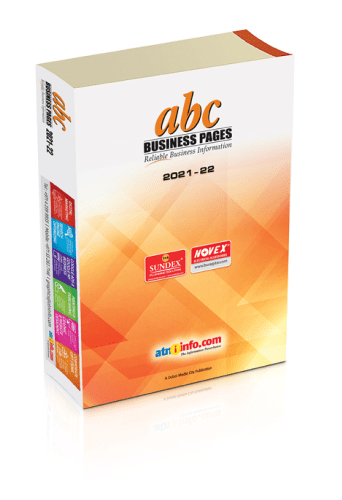 The most comprehensive and updated business directory in the UAE, ABC Business Pages has detailed listings of more than 150,000 companies in the country. It is the most reliable, comprehensive and user-friendly business directory available in the market that covers the entire UAE.
Three modes of information search are made possible in an easy to use format where one can search by name, business activity or location of a given company. The ABC Business Pages directory includes explicit maps whose keys are mentioned in the company listing making one's search even faster.
ABC Business Pages is available as a printed directory, on our website www.atninfo.com, in CD format, E-Directory format (the first of its kind in the UAE) as well as the newly added ATN INFO mobile app. The directory is distributed free of cost to all business establishments, government departments and trade associations throughout the country.
A unique concept in directory publishing, the idea of a brand directory titled ATN Product Finder was conceived and launched by ATN Media Concept in the year 2003. Moving away from the conventional routine of listing companies, we thought of listing all consumer/industrial brands available in the market with details of the company representing it in the UAE. ATN Product Finder is now the most referred to and most popular brand guide in the whole of the gulf. Catering to the brand-loyal shopper in the B2B space, it has through the years become the most sought after medium for advertising brands in the region.
We currently have over 60,000 brands listed in our directory, be it the printed directory, on our website www.atninfo.com in CD format, E-Directory format (the first of its kind in the UAE) as well as the recently launched ATN INFO mobile app.
Introducing a new dimension to the business information industry in the Arabian Gulf
We also bring out a CD-ROM for the e-directories. Comprehensive e-directory editions of three major publications (the ABC Business Pages, the ATN Product Finder and the ATN Hotel & Restaurant Guide) are available in one cd.
For your free copy of the cd, contact us at
+971 4 239 9955 / +971 6 548 2849 / +971 2 674 3800 or Email at [email protected]
To learn more about ATN E-Directories , Please Click here
For enquiry, please Contact Us
To advertise, call us on +971 4 23 999 39
Click Dubai Commercial Directory - Official Dubai Chamber Commercial Directory, DCCI commercial directory to learn more about the most comprehensive Dubai company list.
Website : www.dcciinfo.ae

ATN Graphic Services
Graphic Designing, Stationery Printing, Brochures, Catalogs & Posters, Badges, Diaries & Planners, Leaflets & Pamphlets, Books & Pads, Calendars, Magazines & Annual Reports, Corporate Gifts