Compressor Supplies & Parts In UAE
Profile
Understanding Air Compressors and Their Parts
Many organizations rely on
air compressors
as critical power sources, and they have a range of uses. From intermittent usage in an auto repair shop to continuous operation in a factory or other industrial environment, air pressure is a frequent business function that must be conducted efficiently.
Depending on the climate, air compressors can function for extended periods of time; thus it is essential to maintain the internal workings of your air supply system for the sake of your company's productivity and profitability. Each component has a specific purpose. If these components are not correctly maintained, it might impair the air supply, energy consumption, and frequency of service.
Depending on your application, you may choose a good compressor supplier in Dubai with a reciprocating piston design or the more prevalent huge industrial option known as a rotary screw design. Each utilizes a unique approach to accomplish the same objective: the production of compressed air.
Maintain Normal Air Flow using Fluids
For both reciprocating piston and rotary screw compressors, Compressor parts suppliers in Dubai provides one of the widest ISO viscosity grade ranges available. Compressor supplier's extensive line of lubricants performs well in a broad range of conditions, making them ideal for use in the most demanding industries on the planet.
Splash lubrication, pressure lubrication, and oil injection are the three common methods of lubrication for air compressor motors. The frequency of maintenance and component replacement will be heavily influenced by the oil quality.
Compressor system failure or excessive maintenance costs may result from improper fluid mixing, infrequent oil changes, and low oil levels. Extra costs for equipment are only one consequence of such a scenario. In addition, they will reduce output and revenue.
Fluids for the rotary screw types and other parts are available from air Compressor parts suppliers in Dubai. For both the standard and aftermarket pressure and splash lubricated versions, air compressor suppliers in Dubai provide a range of reciprocating fluids. You may save money on maintenance and replacement components by using the right fluid for your compressor and working conditions.
Develop a Maintenance Plan for Your Working Environment
Maintenance should be performed regularly and correctly. Maintaining the integrity of your compressed air system will not only prevent disruptions to your company operations, but it will also ensure that your components remain in optimal condition for as long as feasible.
Regular maintenance reduces the frequency with which air compressor components must be replaced. The frequency of basic maintenance and outside service will vary based on your compressed air consumption and operating environment. Compressor suppliers in Dubai service professionals will be able to assist you in developing a maintenance program for your company.
You should ideally have a service specialist from air Compressor parts near Dubai handle maintenance and repairs, but in a hurry, you may also complete the service yourself. Periodic inspections and the ordering of commonly-replaced components will be advantageous.
Operation of an air compressor requires a fundamental understanding of the system's components.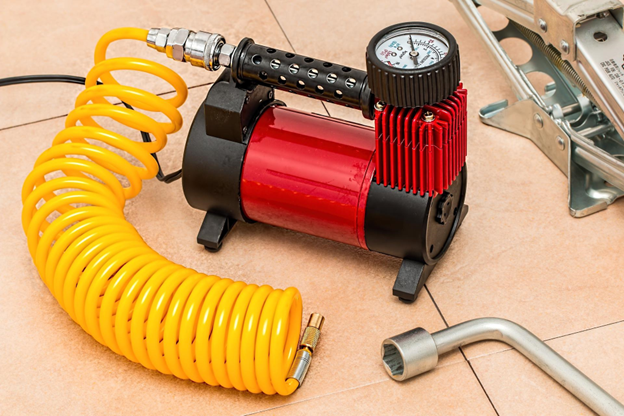 Understanding Your Air Compressor's Parts
This alphabetized air compressor components list is comprised of parts from compressor suppliers in Dubai reciprocating piston and rotary screw models in order to familiarize you with the operations of your air compressor:
Actuators:
The actuator generates rotational or linear motion and is responsible for delivering compressed air to tools or processes that get their power from pressured air. Any leaks or other flaws in the airflow entering the actuator will result in a reduction in the air force leaving the actuator. Small particles that have made their way into the air may clog the actuator and several other components of your air compressor.
Bearings:
Industrial-grade
bearings
provide a long lifespan for the most demanding tasks. Quality bearings will provide you with peace of mind while your air compressor runs at high speeds and pressure. Bearings rely heavily on the correct lubricant with the correct viscosity.
Belts:
Every forty hours, the belt tension should be inspected for wear and proper functioning. As they drive the functioning of your
compressor
, the belts must be of the greatest quality and suitably sized.
Bumpers:
Valve
bumpers surround the valves to provide additional protection against inadvertent contact. Replace this little shielding component as necessary to avoid the costly replacement of valves.
Bushings:
In the internal components of an air compressor, bushings are used to provide space between moving parts. Your bushings safeguard against catastrophic failures and minimize side-to-side play.
Connecting rods:
The connecting rods are used to move the piston up and down in the crankcase, hence bearing a tremendous load. They are a very resilient component of your air compressor. Unless regular maintenance is not conducted on the system, it is possible that connecting rods will never need to be replaced.
Couplings:
These parts are used on internal parts to keep high-pressure systems from leaking.
Desiccant dryers/Q-sorb:
By absorbing water vapor, the air dryers clean the compressed air in your system. Through two pressure tanks containing the extremely absorbent desiccant, a flow of "wet" compressed air is circulated. Q-Sorb is an innovative activated alumina formulation that greatly cuts operating expenses. Regular desiccant and filter inspections will keep your air dryer functioning effectively.
Seals and gaskets:
Your air compressor should be airtight with high-quality seals and gaskets to provide consistent airflow and pressure maintenance. Several components of your air compressor contain gaskets and seals, including the valve plate to head gasket, crankcase gasket, intercooler gasket, oil seal, and shaft seal. These little components prevent pollutants from entering the pressurized air space.
Gauges:
Your air compressor's gauge measures the pressure of the air in the tank. Your gauge is useful in a variety of ways, particularly for daily inspections to verify that your tire pressure is at the desired level so that you may address any inadequacies.
Motors:
Typically, an electric motor drives your air compressor's activity of compressing air. Different compressors need motors of varying sizes (hp). When replacing a worn-out motor, be careful you install the specified replacement motor.
O-rings:
Used to create a tight seal, O-rings contribute to the system's top performance.
Piston rings and rods:
The reciprocating pistons and connecting rods of the reciprocating piston models generate air pressure. These moving components are subject to extreme pressure and need a lubricant that is free of impurities and of the highest quality. Fluid analysis of your fluid in a rotary screw compressor is necessary for optimal operation and early detection of potential problems. Additionally, it is very important to use oil to minimize early piston ring wear, which prevents excessive oil carryover.
Rotors:
In rotary screw air compressors, the air entering via the input valve is compressed by two interlocking helical rotors. With regular maintenance, these rotors have a very long lifespan.
Shims:
Adding supporting spacers to your air compressor installation may be important. These metal spacers will give the necessary support for a dependable system.
Springs:
Multiple components of your compressor require springs for system mechanics. Determine when to replace springs via routine inspections.
Valves:
Valves, which let air in and out, drain water, and regulate airflow, are critical components that must be routinely inspected during interval checks and routine maintenance. Air Compressor parts suppliers in Dubai provide high-quality developed valves designed for durability and longevity. Using Buna-N or Viton seats and seals, they run with the maximum level of efficiency.
Familiarize Yourself with Frequently Replaced Components
You must keep up with inspections, maintenance, and replacements of the following compressed air system components:
Air/oil separator:
Routine inspections of these components and replacement of filters should be a part of your maintenance program before they get clogged and cause a loss of performance.
Inlet air filter:
As an additional preventive step to prevent foreign particulate matter from entering the air compressor system, the inlet air filter should be updated at regular intervals or when an examination reveals that the element needs to be replaced.
Oil filter:
Maintain the required quality of your lubricant with fluid changes and oil filter replacements that are timed according to your system's activity and working environment. The fluid sample program for rotary screw compressors will provide you the information you need to determine the optimal maintenance plan for your air compressor.
Understand the Various Air Compressor Accessories
A few extra air compressor components will also be required for your activities. Consider the following essential air compressor accessories:
1. Filtration Systems
The air filtration system of the compressor uses many filters to remove unwanted particles from the air, producing clean air for effective outcomes.
Filters in air compressors remove the following contaminants:
Moisture
Gases
Oil
Condensate
2. Air System Piping
Air system pipe is often available in a number of diameters to accommodate your air compressor. Years of use may necessitate the replacement of these pipes. Using an air system pipe that is built specifically for your setup may make a big impact on the operation of your air compressor. The purpose of pipes is to transport a continuous supply of air from the compressor to the location of use while preserving air quality, flow, and pressure.
Air Compressor parts suppliers in Dubai provide AirNet, an extruded aluminum alloy air pipe system with dependable performance. Corrosion resistance and improved sealing technologies contribute to a system's efficiency and reduced the total cost of ownership.
3. Hose Reels
A hose reel is another device that might facilitate your job. Hose reels coil air system hoses and store them out of the way. These components are particularly useful if you are using a considerably longer-than-standard replacement hose on your air compressor. Hose reels contribute to an accident-free workplace and improve the efficiency of air compressor operators.
4. Air Compressor Attachment
The addition of air compressor attachments to your collection of equipment may significantly expand your possibilities. When the necessity for certain work arises, it is also advantageous to have the proper equipment available.
These are some of the most common compressed air system components and attachments:
Nail guns:
are used to quickly drive nails in industries like construction and roofing.
Drills:
If you need to make a hole in a piece of wood quickly, you can use a pneumatic drill attachment on your air compressor.
Sanders:
Attachments for pneumatic sanders replace sand blocks and decrease physical strain. These attachments are designed for applications involving wood and metal.
Blowguns:
Blowguns use compressed air to remove dust and dirt off surfaces or to dry them.
Paint sprayers:
These attachments come with different nozzles that can be used to make smooth finishes quickly. Automobile, construction, and machine sectors use paint sprayer attachments often.
5. Air Pressure Regulator
Application-specific air pressure specifications must be met by your air compressor. A pressure regulator is an accessory that supplies the correct amount of air pressure to your equipment to prevent air loss. This feature allows you to enhance productivity.
When necessary, air pressure regulators may raise or reduce the air pressure supplied to tools. This may also prolong the life of your hoses and pipes, which can deteriorate more rapidly under extreme pressure.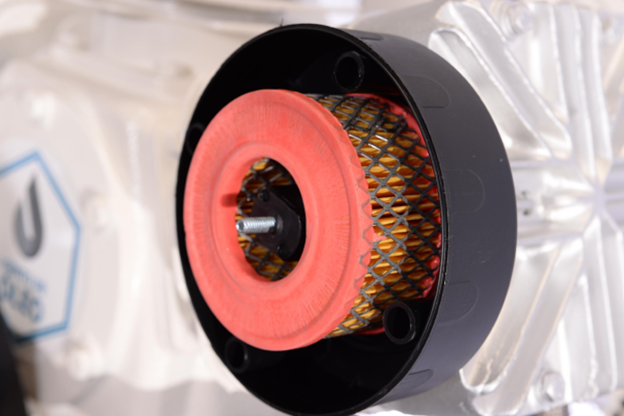 Air Compressors supplier
Avoid wasting money on inappropriate maintenance inspections. Follow the replacement plan for consumable components by giving documented maintenance and daily attention to the performance of your compressor's first importance.
Whether you have a reciprocating piston compressor or the industrial version of the Rotary screw technology, you will eventually need to repair components. By using only authentic parts and fluids for your compressor, you may significantly minimize the frequency of repairs and component wear.
Compressor suppliers in Dubai develop compressors, components, and fluids with cutting-edge technology and the customer's voice in mind. Due to the crucial necessity of your compressed air system, you rely on it to optimize productivity and increase revenues. Consequently, air compressor part suppliers in Dubai strive to provide renowned performance and dependable products. With virtually all of the components made in the United States, you can rely on these compressor supplier's quality.
Each air Compressor part supplier in Dubai component is designed to keep your compressor functioning at optimal efficiency for an extended period of time. From the little but crucial gaskets to the continuously revolving belts, compressor suppliers in Dubai uses only the finest quality materials to guarantee that you get the best product possible. Because quality is the first focus, compressor suppliers also provide some of the greatest warranty coverage in the market, and you can anticipate a speedy response on all of your purchases. Compressor suppliers in Dubai use the finest possible in order to give you outstanding value throughout time.