Sanitaryware Leading Dealers In UAE
Profile
How to Pick the Finest Sanitaryware in UAE
Sanitaryware is a term for toilet and bathroom sanitary equipment. Consequently, sanitaryware refers to any item that interacts with pipes and needs servicing by a plumber. It consists of toilet sinks, washbasins, cisterns, urinals, and pedestals, among other items. You can purchase sanitaryware near Dubai or online at wholesale costs from the greatest sanitaryware companies.
Initially, ceramic was used for all sanitaryware due to its high chemical resistance and easy-to-clean surface. Nonetheless, as a result of advancements in technology, we now employ glass,
granite
, metals, and even
plastic
to produce sanitary items.
The bathroom today plays a much greater role in the architecture and design of a house than it did in the past; it's no longer only a place but has become an integral part of family life. As a result, bathroom items are gaining importance in dictating the aesthetic of any space.
In fact, with the proper furniture and sanitary gear, a bathroom may be converted into a luxurious and pleasant space befitting a genuine health center. The most recent trends suggest that selecting the correct sanitary goods is one of the most crucial components of bathroom decor.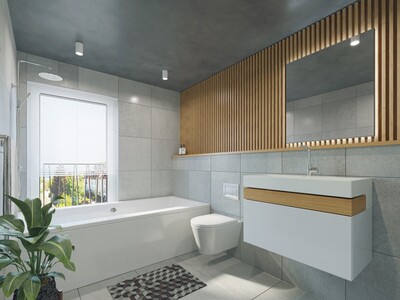 Qualities of an excellent sanitaryware product
Low water absorption :
Sanitary products with low water absorption are often installed in toilets and baths. They are required to have a low water absorption rate. A high propensity for water absorption in sanitaryware results in damage and poor durability.
Heavy load-bearing capacity :
A sanitaryware product should be able to support a minimum of 400 kg of weight. This is to ensure that the product will not fracture or shatter under excessive load.
Durability :
A great piece of sanitary gear is durable. It is used many times every day. Therefore, it is essential that you get strong, long-lasting goods.
Easy-to-clean surface :
A surface that is simple to clean is an absolute need for every sanitaryware product. A toilet seat or urinal that is filthy causes terrible infections. It should be hygienic and clean at all points. Therefore, the surface must be stain-resistant, dirt-proof, and simple to maintain.
Efficiency :
Water conservation is the primary consideration when selecting sanitary equipment. So, a good product effectively handles water.
Types of sanitaryware
Urinals
Toilet seats
Washbasin
Bathtub
Bidet
Urinals
Urinals are
plumbing fixtures
. They are smartly designed to be fitted as a single sanitaryware unit on the bathroom wall. Automatic flushing, manual flushing, waterless, and sensor urinals, in addition to dividers of various sizes, are available at wholesale prices.
When running a commercial company, you must maintain a specific image. Additionally, you must protect the health of everyone who utilizes your services. Your customers, external clients, and employees are all protected. Last but not least, you must build and use business toilets and urinals that are water-efficient, cost-effective, and suitable for everyday use. If you don't have a good commercial bathroom, you're not being responsible.
Types of urinals
Waterless urinal
Sensor
Standard
Flatback
Stall
Squatting
Toilet Seat
The best toilet seats from the best brands help maintain your posture and are creative, luxurious, and affordable. When constructing a luxury bathroom, beauty, utility, and technology all go hand in hand. The extensive collection of luxurious water closets is the essence of luxury and comfort. Each toilet in your master bathroom should be both aesthetically pleasing and functional.
Types of toilets
You may be surprised to find there are several varieties of toilets. They're all different in size, shape, purpose, and function. These toilets vary in price and efficiency, so learning about them will help you pick the best one for your house.
Flushing WC
One-piece water closets
Two-piece water closets
Up flush water closets
Wall-mounted water closet
Tankless water closet
Touchless toilet seats
Intelligent commode
Wash Basin
A single wash basin may be used for several purposes, making it a need in any household. So, choose the best design and put it into action as soon as you can. It's aesthetically apparent positioning inside the bathroom is designed to attract attention as soon as the door is opened.
Given its practical and aesthetic significance, you should carefully choose the one that appeals to you the most, as it may define the whole space, becoming the uncontested protagonist. The wash basin is a necessary piece of bathroom product, but you can make it your own and transform your bathroom into a work of art.
You can simply match them to the color of your walls or combine different colors together. Therefore, how you include the washbasin mixer is totally up to you.
Types of wash basins
Washbasins are vital sanitaryware items. You can choose from several materials and styles when remodeling your bathroom or installing a new sink. Technology has given us some artistic potential that goes beyond imagination, and you can use it to beautify your bathroom.
Common types of bathroom basins include :
Counter Top
Over Counter
Under Counter
Wall Hung Basins
Semi-recessed
Basin supported by a pedestal
Basin with built-in pedestal
Wash basin with half pedestal
Basin with integrated half pedestal
Pop-up waste coupling
Bathtub
Depending on your selection, a new bathtub or a beautiful
Jacuzzi
may give your bathroom a whole new appearance or fully transform it. Consider the following factors when purchasing a new bathtub:
Style
There is a multitude of bathtub types to accommodate practically any bathroom, with each style stressing two essential elements: space and material. You may like an oval-shaped freestanding bathtub, but depending on how much space you have, you may only be able to move around in a confined space.
Material
Because you will spend a considerable amount of time in your bathtub and your comfort is essential to your enjoyment, you should choose which material you find most pleasant. But the most comfortable material might also be the most expensive, so you should assess what fits in your bathroom before you purchase it.
Size
Additionally, you should consider the size of your bathtub. Size is important because your home may not need a larger bathtub if a smaller one does just fine. Most of the time, it's better to get a bigger tub if your home can handle it and you have the space for it. If there is sufficient space, solo and corner bathtubs are wonderful options. However, alcove, drop-in, and soaking may be preferable for smaller bathrooms.
How to Choose the Best sanitaryware in UAE
Over the years, the number of sanitaryware manufacturers in the UAE has grown a lot. These brands make up a wide variety of goods. With so many brands around the corner, it might be hard to choose. Here are some strategies to pick the right sanitaryware for your home:
Color
You don't want your life to be dull and without any color, right? Well, that should also reflect in the way you decorate your home. If you have an eccentric personality, you should embrace it. So, you can choose from different colors of bathroom supplies. You should do some research before buying colorful bathroom items. The sanitaryware color must match your bathroom's traditional or minimalist style.
The product's quality
When choosing bathroom toilets, sinks, and other items, you should never compromise the quality. But you should only buy these products from the best sanitaryware shops in the UAE because they sell the best products. Quality sanitary equipment will have smooth surfaces and pinholes to avoid dull patches.
Stain-resistant
When you buy things for your bathroom, you should make sure they won't get stained. Unfortunately, these goods often break or chip after some time. This breaking happens because ceramic products aren't made with fine materials. You should choose a product that is smooth and has holes that let water flow out easily. This makes it easier to clean.
Convenience and Comfort
The sanitaryware goods are somewhat expensive. When you spend money on high-quality items, you should also make sure they are comfortable. The best-quality items are comfortable and attractive. Invest in adjustable, high-quality bathroom equipment. You don't want to spend too much on bathroom items. So, buying a good-quality one when you first start can help a lot. Easy installation will increase comfort and convenience.
Simple to clean
You should only buy the best toiletries. Even though many of us would like to have bathroom accessories that clean themselves, they aren't easy to find. The bathroom accessories you purchase should be conveniently accessible for cleaning, as this will aid in maintaining bathroom hygiene. Good quality sanitaryware has the best features that make it useful for every day. Also, it will be a big part of keeping the bathroom clean. You won't have to spend the whole day scrubbing the basins.
Space availability
Before you buy any sanitaryware in UAE, you should check how much space you have. For example, you don't want to put big items in a small bathroom because it will make the room look small and crowded. At the same time, you should avoid installing small items in a big bathroom, as doing so will make the space appear odd. Even though choosing bathroom accessories is a matter of personal taste, you need to know how your bathroom is set up before making a choice.
Problems with installation
The installation process for many types of sanitaryware is complicated. In this situation, the technicians might charge more. So, you should stick to a topography plan, and you should pick one that fits your needs. When the installation is done wrong, it can cause plumbing and mounting problems.
When you're planning a bathroom remodel, you need to choose the best sanitaryware so that it shows your personality. Different brands meet the needs of their customers in different ways. Check out all of the collections of sanitaryware shops in the UAE and compare their pros and cons to find one that meets your needs.
Manufacturers, Exporters, and Suppliers of Sanitaryware in the UAE
There are many well-known Ceramic Sanitaryware shops in the UAE. They are built on the highest quality standards, aesthetics, and the goal of providing world-class products and services.
As one of the best Ceramic Sanitaryware shops in the UAE, every product is designed and made with daily human use in mind. It also aims for ergonomic excellence and meets internationally accepted quality standards.
These companies sell sanitaryware that is comfortable, well-made, meet the high aesthetic standards of urban residents, and is made with care for every detail. The highest level of customer happiness has been reached. As a supplier of designer sanitaryware in the UAE, they stay true to their goal of giving their customers the best, whether that's through design, durability, or technical perfection. We have a list of manufacturers and suppliers that have the highest quality sanitaryware shops in the UAE, also these manufacturers and shops are the leading Sanitaryware manufacturers in UAE because of their ability to adapt to changing architecture and design trends over time. To offer the best fittings and sanitaryware in UAE, they get to know their customers and give them the best products that have ever been on the market.