List Of Logistics And Distribution Companies In UAE
Profile
What is the logistics system? How does it work?
There are a few ways to think about how products get from suppliers to customers along
supply chains
. This process, which is often called " logistics & distribution," keeps track of goods as they move from
manufacturers
and other suppliers to retailers so that they can be sold. To make the most money and give your customers the best experience possible, it helps to know a lot about your logistics systems.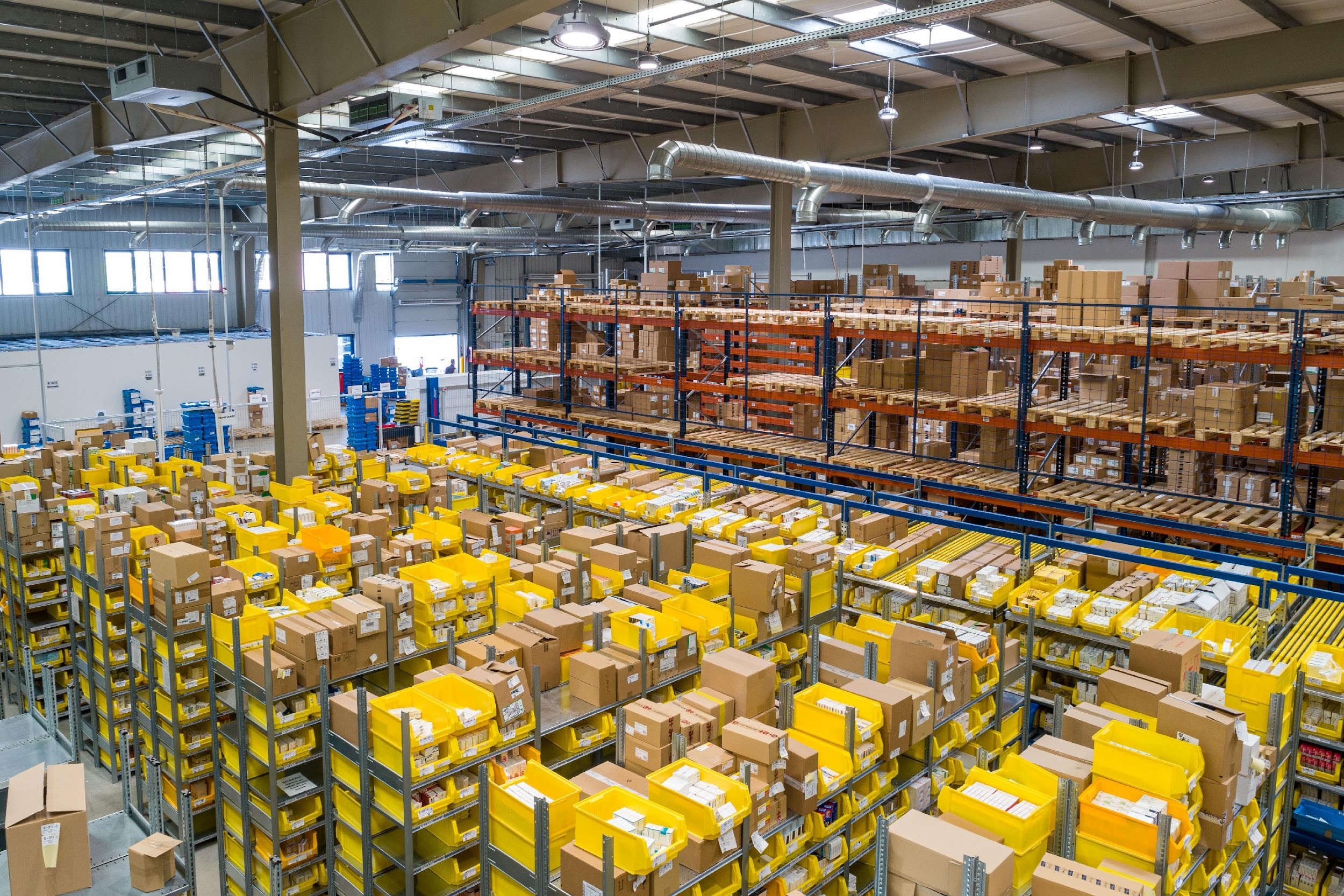 In this article, we talk about what the logistics & distribution process is, why it's important, what its parts are, and how it's different from supply chain management.
Key takeaways
Logistics is the process of moving and storing goods inside and outside of a business.

Logistics management is all about making sure that the right number of resources are available at the right time.

Logistics management that works well can help a company cut costs and make customers happier.

How does logistics work?
Logistics is the process of planning, implementing, and controlling the flow of products, services, or information from the point of origin to the point of consumption along a supply chain. Depending on the logistics needs of their clients, different logistics companies in UAE handle some or all of these supply chain tasks. This part of the supply chain looks at how a company buys goods and how those goods become goods for sale.
What is logistics management?
Logistics and distribution management is all about making sure that the day-to-day tasks of making finished products or services for a company run smoothly, from the point where they are made to the point where they are used. It makes sure that you have a plan to meet your customers' needs and a way to keep track of the resources you need to make and use your product. The main goal of logistics management is to get the right number of resources or to put them into the supply chain at the right time, and then to make sure that the right products get to the right person and place in good shape.
Why Logistics and distribution is important
Having smooth logistics is a key part of both meeting customer needs and doing better than competitors. Here are some other important things about logistics.
Logistics affects your net profit
In Logistics and distribution companies in the UAE, everything has an effect on your bottom line. This includes everything that goes into getting the product to your customer, such as
shipping
fees, fuel costs, spoilage, storage, and anything else. If you can keep products from going bad and cut down on logistics costs, you can save a lot of money and make more money. This means making sure you pay the best prices for delivery and distribution and that you have the right number of products for customers to buy.
Logistics affects the customer experience
Logistics and distribution companies in the UAE that works well can give customers great service by making sure they get the products they want when they need them. You can help your customers have a better experience by automating tasks like inventory control. This makes it easier to see what items you have in stock and which ones you might need to order more of.
It's also important to keep customers up to date and let them know what's going on with their orders. You can also send tracking numbers to customers to encourage them to check on the status of their orders. When a customer places an order, you can let them know right away if it will take longer to get. Keeping customers happy and interested by being honest about delivery and logistics.
The parts of Logistics and distribution companies in Dubai
Logistics may include some or all of the following business tasks:
Inbound transportation
The movement of goods and materials from a supplier to a company is called "inbound transportation." It includes sending, storing, and distributing parts or raw materials that are used in production. It may also involve keeping track of inventory, finding the materials, and figuring out the best way to move goods from the supplier to your warehouse, store, or factory.
Outbound transportation
Outbound transportation is the flow of finished goods from a company to its customers or end users. Customer service and distribution channels are two of these things. For example, if a customer places an order with a company's sales department, they check the inventory to make sure the product is available and then send the order to your warehouse to be packed and sent to the customer.
Warehousing
Warehouse storage means putting goods, inventory, or information in a safe place in a certain area or building. It's needed by most businesses that make, sell, buy, or
transport
goods. Warehouses store goods in a safe and organized way so that a company can keep track of where things are, how long they've been there, when they got there, and how many are available.
In e-commerce, goods are kept in a warehouse until a customer place an order through the company's website. Then, the product is sent directly to the customer. In traditional retail, companies may store items in a warehouse before sending them to a store.
Fleet management
The term
"fleet management"
is used to describe the management of commercial and private cars, planes, ships, and trains. It can do things like finance and lease vehicles, make sure people have the right licenses and follow the rules, take care of vehicles, handle accidents, and manage the supply chain.
Companies that depend on transportation for business can reduce or get rid of the risks that come with buying vehicles if they manage their fleets well. This increases efficiency and productivity, lowers overall costs for staff and transportation, and makes sure that government rules are followed.
Order fulfillment
Order fulfillment is the process of storing goods, packing orders, and sending products to customers. In a broad sense, order fulfillment is everything that happens between the time a customer places an order and the time that customer gets their order. Order fulfillment can be done by the company itself or by fulfillment partners.
In-house order fulfillment is when a company runs its own warehouse and shipping operations, usually with its own staff, equipment, and space. It's perfect for businesses that have been around for a while and want full control over how they run. In contrast, companies that outsource fulfillment hire a third-party fulfillment provider to handle order fulfillment for them. This can be best for businesses that want to save time by not taking care of these tasks themselves.
Inventory management
Inventory is the goods or materials that a business plans to sell to customers in order to make money. Inventory management is an important part of the supply chain because it keeps track of items from the factory to the warehouse and from there to the point of sale.
Inventory management is all about making sure you have the right goods or materials. This means being able to see what items are in stock and figuring out when to order, how many to order, and where to store them. The basic steps of managing inventory are:
Purchasing inventory: - When a company buys parts or raw materials and moves them to a warehouse, this is what happens.


Storing inventory: - This is when a business keeps things until they are needed. This can be done with raw materials or finished goods in a warehouse or some other place.


Profiting from inventory: - When this happens, companies have more control over the goods they sell. It means letting finished goods out so that orders can be filled and delivering goods to customers.
Materials handling
Moving goods or materials around in a warehouse or storage area is called "materials handling." It uses systems and tools that are manual, semi-automated, and fully automated. During the manufacturing, warehousing, and shipping phases, it's important to think about how to store, protect, and keep track of goods.
Demand planning
Demand planning is the process of figuring out what people will want so that products can be delivered quickly and reliably. Effective demand planning can improve the accuracy of a company's revenue forecasts, increase the profitability of a certain product or channel, and make sure that the inventory is in line with what customers want.
Demand planners carefully look at both internal and external factors that could affect demand, such as news events, weather patterns, natural disasters, and issues with the labor force. A good way to make an accurate forecast of customer demand is to gather information from as many places as possible. Demand planning involves the following steps:
Trade promotion management: - Trade promotions are marketing strategies that focus on increasing demand in stores through giveaways, discounts, and other similar methods. Trade promotion management helps companies build stronger relationships with retailers and stand out from the competition through well-organized marketing activities.


Product portfolio management: - Product portfolio management is the process of taking care of every part of a product's life cycle, from putting out a new product to making plans for when it will be taken off the market. The goal is to keep an overview of the whole portfolio and figure out which product lines depend on and connect with each other.


Using data to make predictions: - Statistical forecasting is the process of using past data and advanced statistical algorithms to make predictions about the supply chain. In demand planning, it's important to make predictions based on data to avoid having too much or too little of something and to make sure customers are happy.
How is logistics different from management of the supply chain?
Logistics and distribution companies in the UAE and supply chain management are similar, but there are important differences between the two. Logistics is the process of moving and storing goods both inside and outside of a company. Supply chain management is a set of activities that work together to make and move goods, from the raw materials to the finished product to the customers.
The supply chain includes logistics and distribution. This means that the person in charge of a company's supply chain is also in charge of managing parcel delivery companies, shipping companies,
freight forwarders
, customs brokers, and third-party logistics companies in the UAE.
Logistics and distribution in the UAE
A logistics and distribution company in the UAE can help you in many ways, from managing the transportation of your goods to providing warehousing and inventory management services. Our website has a list of top logistics companies in UAE that can provide you with the services you need to efficiently and effectively manage your supply chain.
The companies on our list offer a wide range of logistics and distribution services in the UAE, including transportation, warehousing, inventory management, and more. Whether you need to transport goods locally or internationally, or need assistance with managing your inventory, you will find a company that can meet your needs.
In addition to logistics and distribution services in the UAE, many of the companies on our list also offer value-added services such as custom packaging and labeling, as well as reverse logistics and returns management. These services can help you streamline your supply chain and improve efficiency.
Furthermore, our list includes logistics and distribution companies in Dubai that are committed to sustainability and environmental responsibility. These logistics and distribution companies in the UAE use eco-friendly transportation and warehousing practices to reduce their impact on the environment.
Overall, our website is an excellent resource for finding top logistics and distribution companies in UAE. We make it easy for you to find the right company for your needs, so you can focus on your business and leave the logistics and distribution in the UAE to us. With our list of logistics and distribution companies in the UAE, you can rest assured that your goods will be transported and managed efficiently and effectively.